Happy Furlough Friday! Well, I'm sorry to say, friends, that the Crafting ADD mentioned in
this post
is turning out to be a lingering affliction! To further complicate matters, I'm on some new medication that makes me SUPER drowsy in the evenings and sadly, I'm usually out cold by 9:00pm. So, teeny-tiny attention span + limited crafting time = too many unfinished projects! It's definitely time for some spring cleaning!!!
First of all, I'm very happy to report some POSITIVE movement in the stash-busting efforts!
Weeks 8, 9 & 10: 2/18/10 - 3/4/10
Used:
.44
... yes, another
point something
report, but check out this next number ...
Purchased:
Zero, Zip, Zilch
... Unheard-of! Absurd!
I finally managed to finish a project -- my cute little spring-y table topper, first introduced in
this post
!
Although, when I showed my hubby, the conversation went something like this:
Me: Hey look! I finally finished something!
Him: Nice placemat. Are you going to make more of them?
Me: It's not a placemat -- it's a table runner.
Him: Hummm! Maybe if you're a hobbit.
Alright. So maybe it's more of a centerpiece or candle mat, but if you have a
[small]
table you think it would look great on, you'll be able to purchase it
here
by the end of the weekend. Hopefully, the rain will hold off and the sun will stay out just long enough for me to take some pictures tomorrow!

As I have a number of partially finished projects sitting on either my cutting table or my sewing table (or hiding in boxes on the shelves, or hanging on hangers in the closet), I've decided that it's time to do some spring cleaning!! The plan is to alternate working on new projects and spending some time getting reacquainted with some older [unfinished] friends.
This week's new friends are two coordinating patterns, inspired by Gypsy Rose by Fig Tree Quilts for Moda. If you love Fig Tree Quilts' patterns and fabric line as much as I do, check out owner JoAnn's blog, "
Fresh Figs
," listed under inspiring blogs.
Both of these new Poplun patterns can be made out of a single layer cake (or four charm packs) and some white-on-white print fabric. Tentatively named, "English Rose Garden" and "Sweet Irish Rose," both quilts use classic block patterns to set off the brown, pinks, lavender, green, and cream of the fabric.
"English Rose Garden" is as precisely-planned as any English garden, with color-coordinated foliage in manicured planter boxes, framed by crisp, white walkways. I finished the quilt top last week and all that's left is to decide on one of three possible borders, and to quilt and bind.
"Sweet Irish Rose" is more of a free form piece, unplanned piece, with [relatively] unplanned color-patterns arranged in a "Double Irish Chain" pattern around some rather sweet appliqued flowers. While I had the concept in my head for this second quilt almost from the moment I started with the first, how to execute it in a quick, organized fashion took a little bit of planning. Rather than sewing together over 1,000 individual blocks, the directions will show you how to assemble a series of larger, repeating blocks, making for a quicker (and probably more accurate quilt).
If you are interested in testing either or both of these patterns, please email me at: Poplun(at)gmail(dot)com. I'll send you a draft of the pattern in .pdf format in exchange for your constructive feedback.
The old friend that finally saw the light of day ... after who knows how many years in the Ikea box on the shelf ... is this crib-sized quilt using the Robin's Egg Blue colorway from Moda's Allspice Tapestry.
I can't remember whatever possessed me to make a quilt out of dozens of teeny-tiny squares, but over the last week or two, I finished assembling the last four squares, attached the last of the sashing, and got that baby layered, basted, and quilted. As you can see, I'm in the process of removing the tissue-paper pattern that served as the guide for my free-form quilting.
Hopefully this weekend, I'll have time to sew on the binding and list it in the
store
!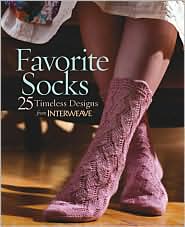 Sadly, not much has been done on the knitting front. I'm still plugging along on my
Embossed Leaves
sock (#1) in a really nice light-blue bamboo-blend yarn. The pattern is from the book on the left, which is the
best sock book
I've come across thus far. They have so many beautiful patterns, but I knit so slowly that I'll be 109 before I get to try everything!
I've added my ravelry account information to my side-bar as well.

My username is

poplun

if you'd like to add me as a friend.